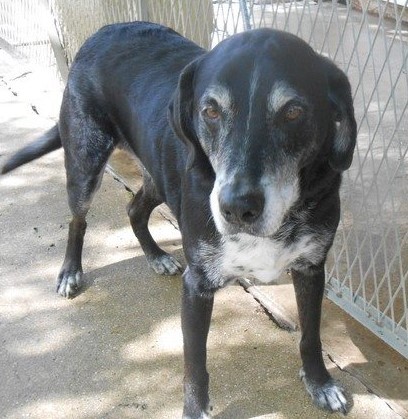 Say hello to Drop. Ironically named given this is the absolute treasure I spoke of when his family, all jangling jewellery and silk scarves abandoned him when the elderly family member who had loved him, had gone. They did not glance back.
This boy is 8 years old. We all know I love all our dogs in Saintes but there are some with an aura, a tenderness in the soul that seeps out of their pores .. Drop is one. He is calm, loving and (sadly) accepting of his lot. He has been sharing with an old girl and he has cared for her, sounds crazy but it isn't. She needed comfort and he gave it to her.
This is Drop. He is gentle, calm, loving and wears his soul on his sleeve. He is fairly ordinary to look at but if aura's were visible, everybody would want him. Please take the time to look at him, his Ma will feel it out of the screen when she sees him, I know this.
Drop is currently at Saintes SPA Dept 17.
If you're interested in Drop or require further information please contact Kate Potter on email katepotter47@hotmail.com