Our shops are very important sources of income & all proceeds go to Hope. We sell good-quality clothes, shoes, bric-a-brac, books, furniture, jewellery, ornaments, dinnerware, pots & pans, artwork etc, all at low-low prices. Come along, grab a bargain & stop for a cuppa & a piece of cake.
We're looking for support as volunteers & cake bakers too. Please email us if you can help at one of our shops.
Donations of good-quality clothing, bric-a-brac & books are always welcome. We also accept bedding & food for animals, which we pass on to local shelters.
Hope Shop 16: CONFOLENS (map)
Brit Shop & Café open
Tuesdays, Fridays & 2nd Sunday each month, 10h00-16h00.
PLEASE NOTE: THE SHOP IS CLOSED SUNDAY 9TH APRIL FOR EASTER.
IT WILL OPEN SUNDAY 16TH APRIL INSTEAD.
51 route de Confolens
La Tulette
16500 ANSAC-SUR-VIENNE
tel: 05 45 71 77 73 portable: 07 80 20 43 57
email: shopsixteen4hope@gmail.com
FaceBook: Hope Association Charity Shop 16
Donations: please leave donations before 15hoo. Please don't leave them when the shop is closed as they get stolen.
CELEBRATE THE CORONATION STREET PARTY:
Sunday, 7th May from mid-day.
Tickets 15€, available from 4th April at Hope Shop 16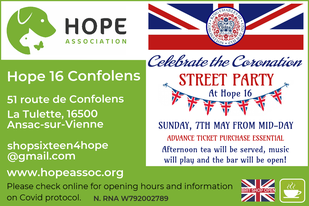 Hope Shop 79: SAUZÉ-VAUSSAIS (map)
Brit Shop open
Thursdays & 1st Sunday each month 10h00-16h00
2 bis, route de Vauthion
79190 SAUZÉ-VAUSSAIS
tel: 06 88 01 10 74 email: shopseventynine4hope@gmail.com
FaceBook: Hope Association Charity Shop 79
Donations: Thursdays only please, 10h30-15h00

FURNITURE SHOWROOM:
1 route de Mare aux Loups Louba (off the D948)
79190 Clussais la Pommeraie
please enquire at Hope Shop 79 for access.