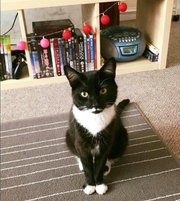 Stanley is a healthy, 5 year old neutered male, fully vaccinated and chipped (number 953010003692961). He has never lived with dogs or young children but I don't see this being a problem as he is pretty laid back.
Stanley loves helping with the outside chores . Inside he is not a lap cat but loves a cuddle and cuddling up on the sofa. When he gets a chance he also loves to sleep on the bed with or without you ! He was rescued by my daughter from a refuge when he was 6 months old and came to live with us 2 years ago when she had to move into a flat not suitable for him. He has lived with my other cat during the last 2 years. We would love to keep him in the family but circumstances just doesn't allow that and I don't want to see him in a cage in a refuge as he is young and active. We leave France on the 10th March.
He's in area 16500, please contact email: .