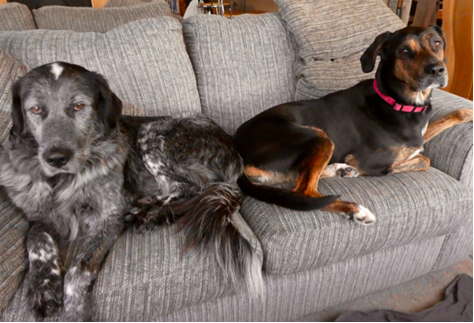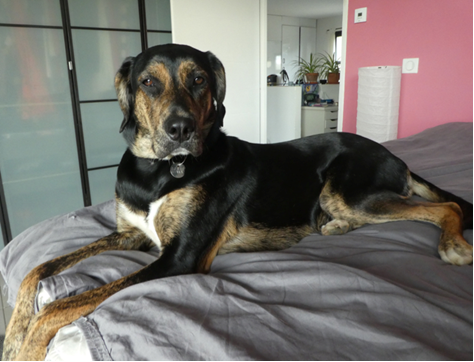 WILLOW, Berger X (looks like a whippet), 3 years old, medium build, sterilised, chipped and fully vaccinated against ticks and rabies (up to date). Has a pet passport. FR SN 1 1857810
We adopted Willow when she was three months old from FelisCanis, Murviel-les-Beziers. She and the other puppies in the litter had been left without food, and had been abused. She is a happy dog now, loves everyone and loves other dogs. She is very fast, a bit excitable when she first meets people and jumps up to greet them. She is sweet-tempered and likes to play. Walks well on a long lead, but her joy is to run free and very fast. She has no health problems.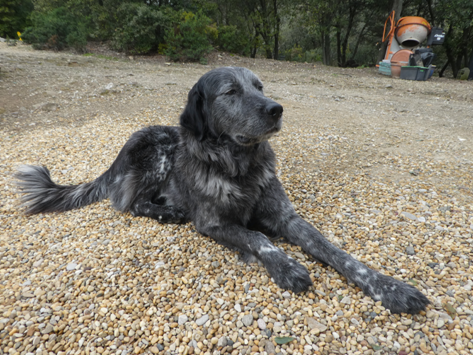 MARLOW, Blue Griffon X, 9 years old, large build, not castrated (told by vet it's too late). Chipped and fully vaccinated against ticks and rabies (up to date). Has a pet passport. FR SN 1 1857809
We heard about Marlow from a friend who keeps an eye on adoption websites. He had been living half-wild in the Pyrenees, free to roam the village. Then his master died. We were looking for a companion for Willow so took him. They were instant friends. Marlow definitely mourned his master and was sad for a while, but is now very settled. He is a perfect gentleman indoors, quiet, calm, gentle and never demanding in any way. He is a beautiful dog with a thick, soft grey coat and comes for cuddles. He loves water and swimming. Outside he still likes to run away and roam, although he always comes back, so he needs to be in an enclosed garden. He chases cats and can be aggressive towards large male dogs. He needs a firm, loving master or mistress. He has no health problems.
Willow and Marlow are inseparable. It would be wonderful if they could be homed together. They are both high energy dogs and need plenty of exercise.
They are currently in 34800 Cabrières, Hérault. Please contact Lynn Michell on email: