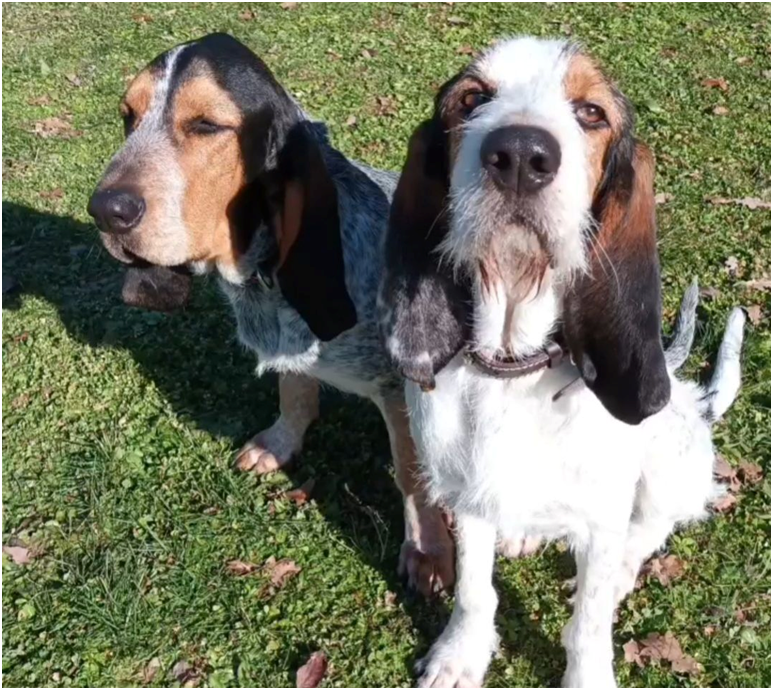 Tony & Thor
Race: mother: Bruno du Jura, father unknown. Castrated & fully vaccinated.
These two brothers are absolutely full of character, and having just recently turned one year old, are still full of curiosity, fun and are incredibly loving towards us. Their big, brown eyes gaze at you with total adoration.
However, being brothers, sibling rivalry between them is getting worse, and they need to be rehomed separately. They both need to be in a family where they can be rigorously trained, have lots of stimulation and plenty of exercise. Unfortunately, due to a marriage breakdown, work commitments and the aggression between them, we have reluctantly reached the decision to rehome them. Their new homes will need to be securely fenced/walled, as whenever they smell or hear another animal, they try to find it. They also seem to think they are kangaroos, as they can, and like to, jump over walls easily.
Tony (the white one) despite being the older of the two brothers, is the baby, and loves a tummy tickle and to be with us constantly. He walks well on the lead, but gets very nervous/excited at feeding times, so spins in circles and piddles at the same time.
Thor loves to give kisses, but he is wary of strangers and other dogs. Once the stranger enters your home and sits down, he is absolutely fine, but initially he barks and cries. He is definitely the more vocal of the 2. He needs further training on how to walk on a lead, as currently pulls and is very strong. He has started to become very possessive over his food, but only towards his brother.
They both travel well in the car, enjoy lying in the sun, and sleep well during the night, although do like to wake early. They do not like cats, and may be too boisterous for families with young children.
Currently living in 17700 St Georges Du Bois, near Surgères. If you would like to adopt either Tony or Thor, please contact Melanie on