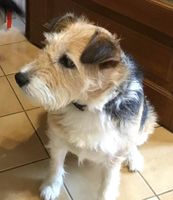 Lilli
Our Fox Terrier, Lilli, was born in June 2015 and has been with us since August 2015. She is very affectionate and intelligent, loves a cuddle and grooming is heaven for her. She loves the outdoors and long walks. Reluctantly, due to personal circumstances, I've decided to put her up for adoption. She is chipped, up-to-date with vaccines and spayed. She has no health issues, no allergies and has always been given a good bill of health from our vets. I use Bravecto for flea and tic treatment and she has had no reaction.
She is excellent in the car, keen to see where the driver is taking her. She loves family life, and will appreciate a younger family with time for regular daily walks, which I'm now unable to give her. She is always alert to a noise or movement – an excellent guard dog. She would benefit from some canine education as I haven't been able to reinforce what she's learned. Lilli is amazing with people of all ages; never a problem with visiting younger members of my family or friends. She's happy with a cuddle, but sometimes she can be overexcited, like many dogs. She's been brought up with an older dog and a cat which has since passed. She will chase cats though so needs a cat free household, but she may be OK if a kitten is introduced to her. Lilli would be good for someone who is conversant with Fox Terriers and their little foibles.
Chip number: 250269811212842.
She is in 79320 Moutiers-sous-Chantemerle.
My contact details: . Tel: 06 30 63 81 03