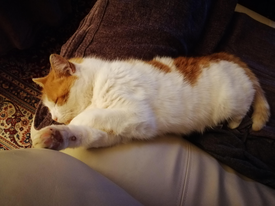 The lovely Bolly is about 10 years old. She is mainly an outdoor cat and spends the night outside All year round. She is frightened of dogs as she was chased once and almost caught. Bolly is a very friendly and loving cat once she gets to know you.
She needs to be re-homed as her owner is moving to an apartment the UK. The vet says that she is healthy and she is chipped (no. 250268780164991) and vaccinated. Her second vaccination is due on 1st September and the owner leaves on 8th September.
She is currently in 16380 Champagne-Mouton. If you would like to give Bolly a home please telephone: 05 45 30 04 16.