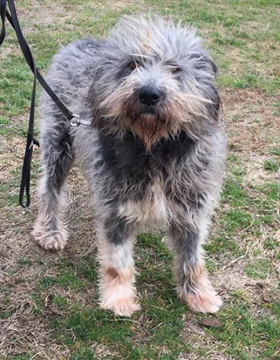 NOVAK, a male Romanian shepherd  is 8 years old. A big calm teddy bear, he is fine with male and female dogs but not with cats.
Novak has certainly got a story to tell. Firstly, he was stuck in a Romanian hellhole for many years. His "master" thought that he was an unlucky dog to have around his flock so he threatened to hang him!
The Mitzuka association saved him and he was handed over to Galia. Then, a year last September, at 6 years old, he arrived in France. He'd already had such a hard time which could have given him behaviour problems, but no, he's such a sweet, friendly dog. Unfortunately, having just arrived at Galia, a tumor was discovered. The vet said he must have suffered enormously for a long time. During the very painful auscultation, he didn't flinch (his eyes rolled upwards with the pain) and the vets could not get over his courage and kindness. What sort of life has this poor little lad had to be so tolerant of suffering?
Now, Novak has been operated on, cared for and is now in great form! He gets along very well with his companions. He is very calm and obedient. He's also very easy to walk! He now needs and is more than deserving of a house and family full of love for him. He really is a special little dog and will make a wonderful companion. Novak is chipped, vaccinated and castrated.
Interested?
Should you wish to make further enquiries or ask about adoption, please click on the link below. The form can be completed in French or English. For the English version, please click on the English flag within this link
or contact Sue Hetherington on Facebook through Galia Association.