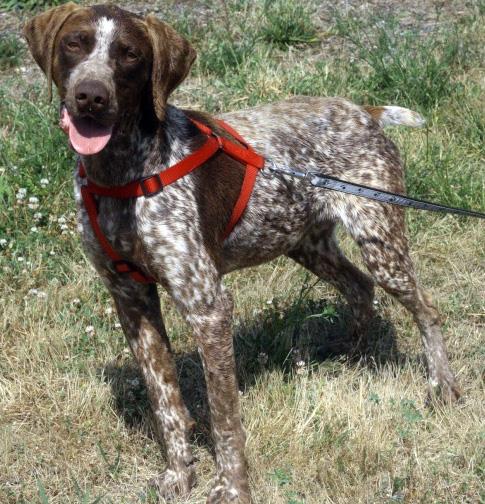 Pirate : German Shorthaired Pointer
Born : 01/01/2012
Arrived at the refuge 01/07/2015
Pirate was saved from the pound where his euthanasia was scheduled. Pirate is very friendly dog that loves people, you can be sure that he will form a bond with his new owners.
He is friendly, always happy and loves life! He is not comfortable in the car, he will need a dog bar or to be cage trained.
He is OK with female dogs and males, he is submissive. He has had a couple of male (entire) kennel mates and we are working with lead training he is OK with a harness. He shows an aversion to cats, despite this he just wants love, he comes to the front of his kennel box and presses against the gate so he can get as close as possible for a cuddle.
The general conception is that German pointers are bred for hunting, Pirate just wants to run and play.
Pirate is currently with Galia Association at Fontenay le Comte, Southern Vendee, dept. 85.
Pirate is not yet sterilised but will be before adoption, microchipped and all vaccinations are up to date. He has been treated for worms, tics and fleas and a donation of 190€ is requested.
If you're interested in adopting Pirate or would like some more information please contact Sue Hetherington on 0251 876 899 (English speaking) or email: pitway@live.com
For French speakers email assogalia85@gmail.com orhttp://www.association-galia.fr/demande-dadoption/