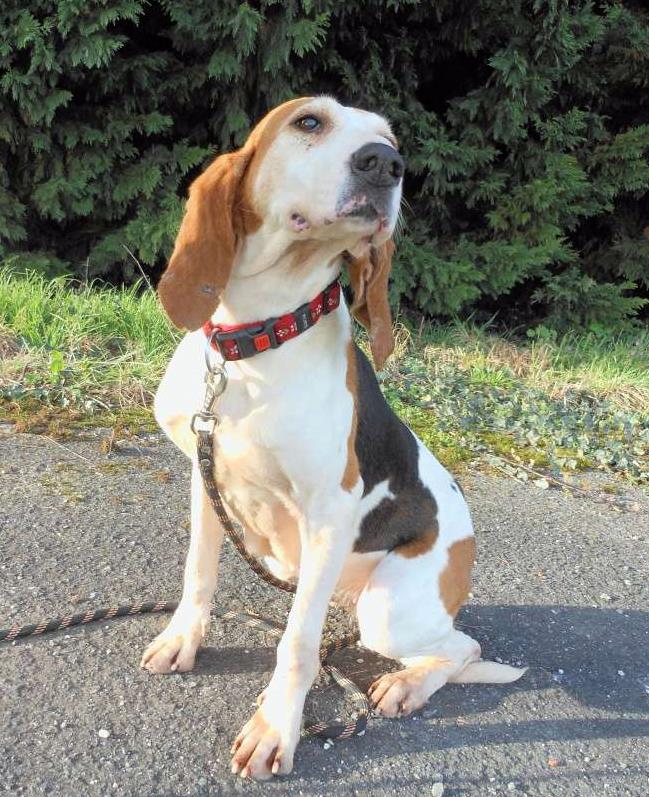 Lilas : Anglo Hound
Born : 21/08/2013
Arrived at the refuge December 2015
Lilas is a lovely dog, very cuddly and pot of glue that deserves to find a home full of love.
She is a gentle dog, gets along with other dogs and does not mind goats and is OK with children but like many hounds they have a tendency to chase cats and shows too much interest in chickens.
She will need daily walks and an enclosed garden. Hounds make great family dogs and once they find the sofa they are truly happy.
Lilas spent a small time in foster and was found to be clean and calm in the house, she was happy to snuggle up with the other dogs and OK during the night.
She does not pull on her lead and loves walks.
Lilas needs a family that are with her constantly, she can be destructive if left on her own.
Lilas is currently with Galia Association at Fontenay le Comte, Southern Vendee, dept. 85.
Lilas is sterilised, microchipped and all vaccinations are up to date. She has been treated for worms, tics and fleas and a donation of 240€ is requested.
If you're interested in adopting Lilas or would like some more information please contact Sue Hetherington on 0251 876 899 (English speaking) or email: pitway@live.com
For French speakers email assogalia85@gmail.com orhttp://www.association-galia.fr/demande-dadoption/