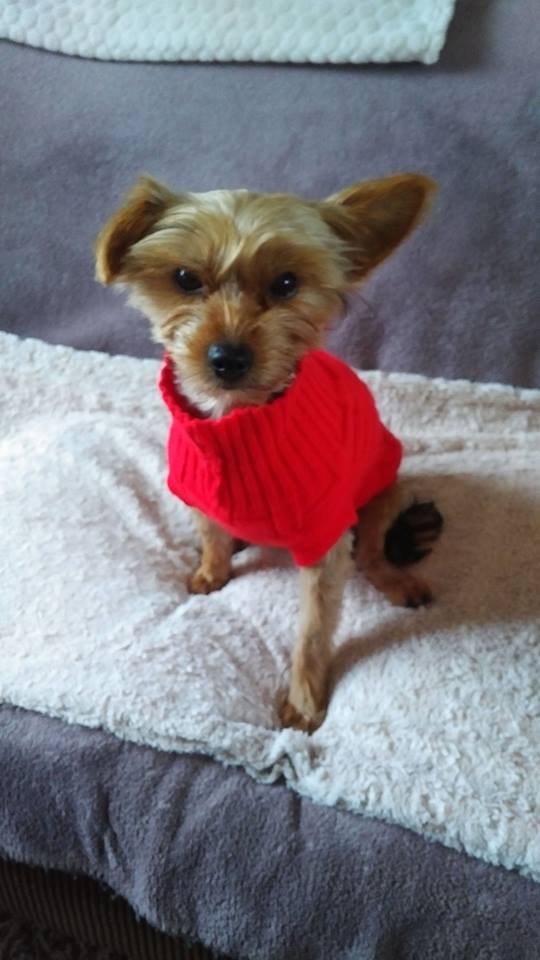 Fifi has had a makeover and doesn't she look super! Approximately 18 months old, weighing in at just 4.5 kg, 30 cm at the shoulder, this is what her fosterer (the lady who would love to keep her but her JRT thinks otherwise) says about her:
"She just adores giving cuddles and love, she loves playing in the garden, chasing birds and butterflies and leaves . She is feisty and puts silly dogs in their place, as in the Lab at the groomers. Just a little growl and a yap if too close or pestering!
"She would do well in a family with children who would play with her and/or other dogs who like to play and are social. She could also be an only dog as she loves to cuddle on the sofa or on a nice lap. She is attentive and learns quickly, she knows her name, she will come when called and has learned to sit for a treat.
"She is also learning to walk to heel on a lead and with a canny collar. She knows when she has her harness put on that we are going for a walk and shows how happy she is. She is a little frightened of traffic that comes close so she needs watching and comforting in that instance.
"She sleeps well in her crate and can go through the night without needing to toilet and has done nothing in the house since the first day she arrived. She has been house trained at some point and is very good. I have noticed that on occasions she cowers if I raise my voice and also cowers sometimes when I put my hand down to stroke her. I believe that she has been hit or punished before and has remembered that. If I speak softly to her when this happens she is easily comforted and returns to normal.
"She is happy to be brushed and stroked and was a good girl at the groomers and didn't wriggle too much. She wasn't keen on the bath but it may have been her first time, she really did very well I am so proud of her.
"She eats kibbles and soft food mixed together with a little warm water for a gravy. She likes cheese, ham, sausage and Greenies 🙂 treats.
"She is just an all round sweet little dog who just needs that chance to be herself and play. she also likes soft toys that squeak and that she can pull with you. I can't fault her except for her recall but that will come in time and so will the lead work to walk to heel.
"One of the prettiest dogs I have ever met. "
Please PM or email info@lesamisdesanimaux.com if you are interested . . . GENUINELY interested . . . in adopting this little girl. She is chipped 250268501338900, vaccinated and sterilised. Home check and adoption fees apply.