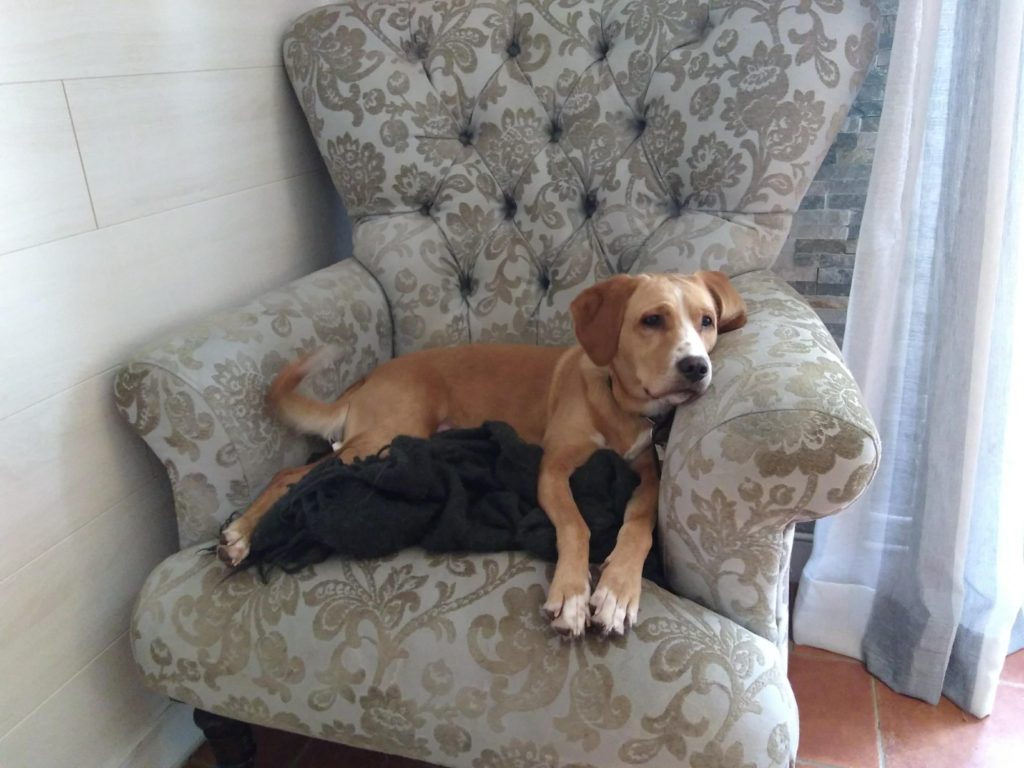 Hello,
My name is Elkie. It is not my first name, but I don't know what it was before I arrived at the SPA in Mornac near Angouleme. I was only 10 months old, and pregnant with 5 puppies when I was dropped off by a caring person who had found me wandering the streets in Soyaux. I had not been microchipped or tattooed, so it seemed my first owner had abandoned me when I got pregnant.
A kind lady at the SPA took me under her wings at her foster home, helped me deliver my five babies and taught me how to be a mum. While nursing my own, another four puppies arrived without a mum at the SPA, and I took care of them also.
After the puppies had been weaned I would have to go back to the SPA, but fortunately I met my mum and dad at the foster home, and I moved in with them in August of last year. They have taken good care of me and we are happy together in their home. We love to play tug, and Kong, and run around in the garden. My favorite thing to do is to rip up cardboard boxes, or steal bits of kindling wood from the wood basket and turn it into matchsticks. Better than chewing shoes or furniture!
I am a mixed breed dog, they tell me. One of my parents was a Labrador, the other a beagle or maybe a Breton spaniel. I have a lot of hunting instincts in me. I need space, and freedom to follow my nose. I can run all day. My mum and dad live in a village, and take me out walking twice a day. But walking on a lead in the street is not enough to keep me exercised. They love to hike in the countryside, but have trouble keeping up with me. I have had lots of training to walk to heel on a lead, but I get so excited when I go out that I forget all the lessons. So it is better that I find younger parents who have the space to give me more freedom.
I will be 2 years old in June. I am in good health, have been spayed and received all my vaccinations. I have a bit of a crooked bone in my left hind leg, something that has been so from birth so I don't even notice it. I am really friendly, and not in the least aggressive. My dad's twin grandsons (two years old) came to visit over Christmas and we had a lovely time together.
My mum and dad are really sad and they will miss me terribly, but they know that they can't meet my needs and want what is best for me.
Microchip no. #250269812192599.
For further details please contact verity-lineham@hotmail.com
0675358525
Mansle, dept. 16