[:en]MIMIRE Adopted…. home needed for Effel!
VERY VERY BIG SPECIAL SHOUT-OUT FOR ADOPTION…
Mimire and Féfelle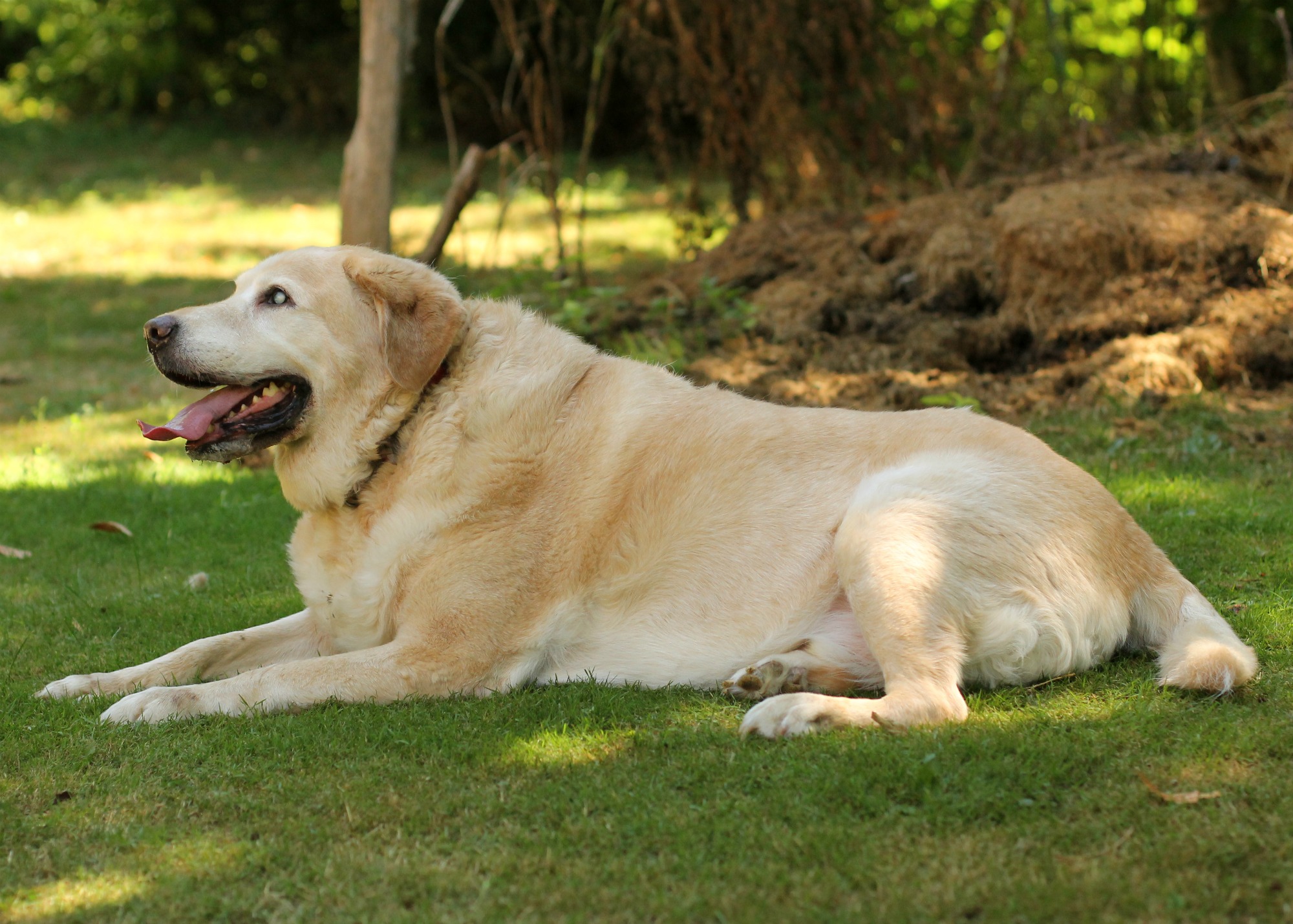 These poor guys have been living mostly alone for the last year, following their owner's illness and hospitalisation. For the last four weeks, they've been living completely alone in a house, cared for by neighbours who didn't want them to have to come to the refuge. They did everything they could to keep the dogs safe, but the situation became unmanageable and they contacted the refuge, asking if we could take them on. The neighbours were desperate to keep the dogs in a home. Having had them in foster for a very short period, I can see exactly why – these poor darlings are completely stressed out and at an absolute loss.
What can be worse than losing an owner, being alone most of the day, only to then find yourself with no fixed address?
Sadly Mimire and Féfelle don't realise how hard it is to rehome dogs like them. A labrador? Ten-a-penny at the refuge. A black dog? Their stay is 6 times longer than any other colour. Age 7 or 8? "Too old," most people say. Male? Not with 8:1 male/female ratios at the refuge. Heartbreaking to know that nobody wants guys like these two when they are such diamonds.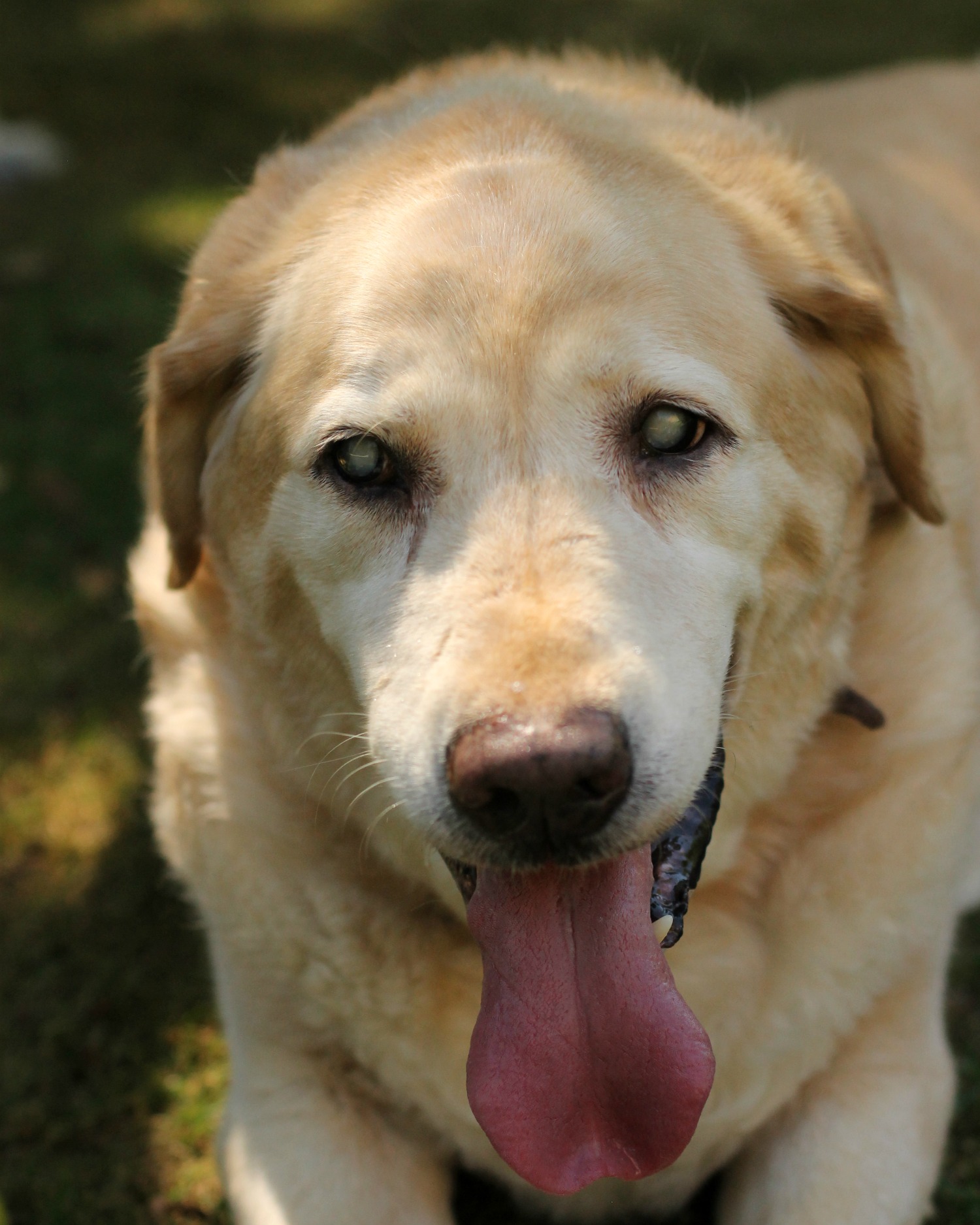 Mimire, the labrador, is 9 years old. He is already castrated and superb with other dogs. Mimire is completely blind, which is another reason it's vital he find a home quickly so that he can settle and find his bearings. That said, he needs no help using his nose to find his way about, and you'll find no problem integrating him into any home. He manages rooms, furniture and gardens without a problem. He's bumped into one or two things, but he's obviously very used to finding his way about. He is an absolute love. If you are fan of labradors, Mimire is everything you'd love about them. He is sweet, cuddly and gentle, fabulous with other dogs and really good natured. Though he could stand to lose a few pounds, Mimire has had nothing by way of exercise for at least the last year and his only comfort has been his food bowl. He deserves a very loving home as soon as possible so that he can settle. Mimire is great in the car and he is house-trained.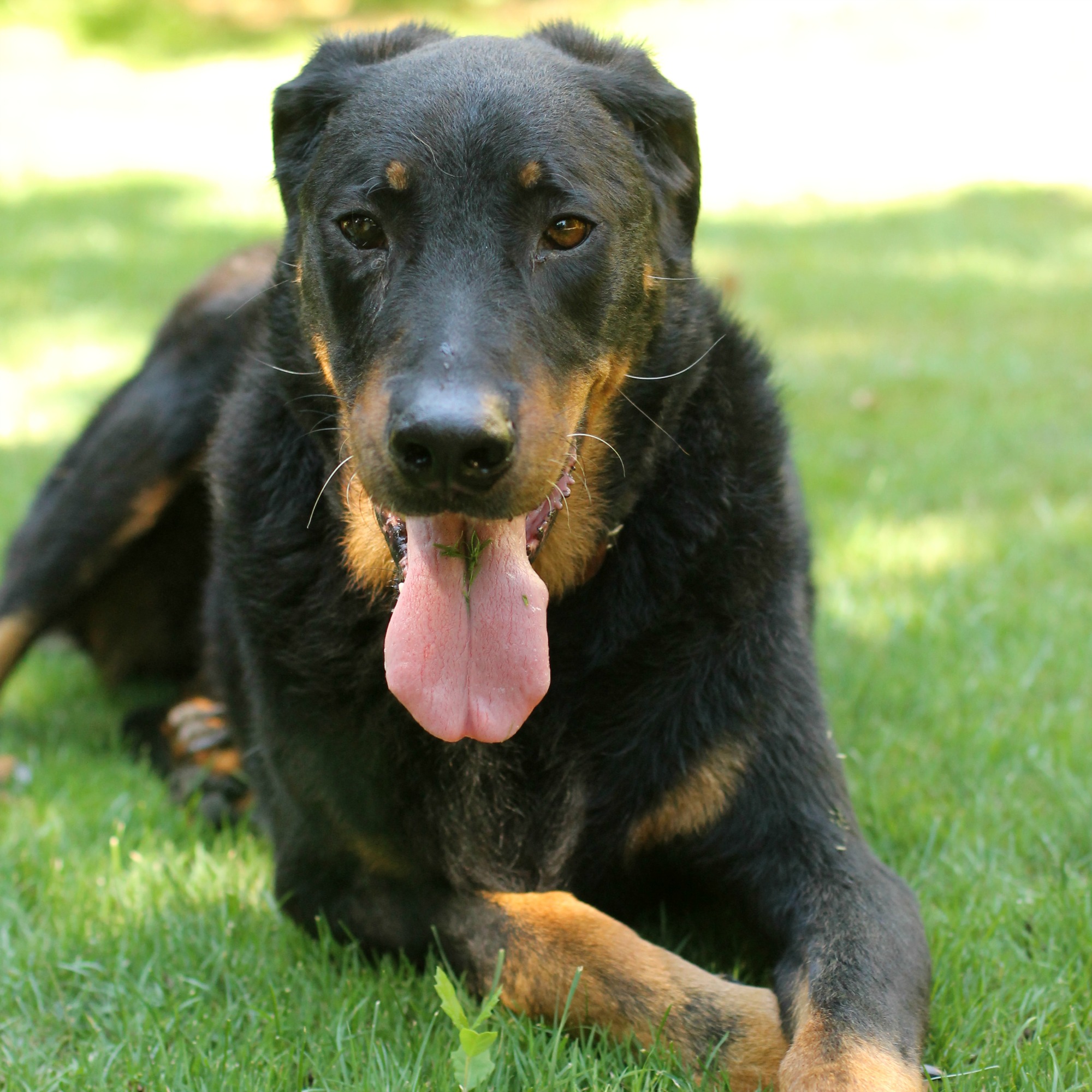 Féfelle is a 7 year old castrated beauceron. He too could stand to lose a little (who couldn't?!) and is house-trained. Other than a little excess poundage, he is in good health. He is an active dog who will appreciate regular activity, but he is a gentle soul. If you like dogs with stature, Féfelle will fit the bill without a doubt. He is just magnificent. Féfelle is fine with other dogs as long as they're not boisterous with him. This boy is finding change a little stressful, but then who wouldn't? Shepherds are sensitive souls. Féfelle is a little stressed in the car, but this is not a surprise when a funny-smelling woman hoicks you into the back of a hatchback and takes you from the only people you have ever known. He is good with strangers, but has never lived with children. For that reason, a home with young children is not recommended for Féfelle or Mimire.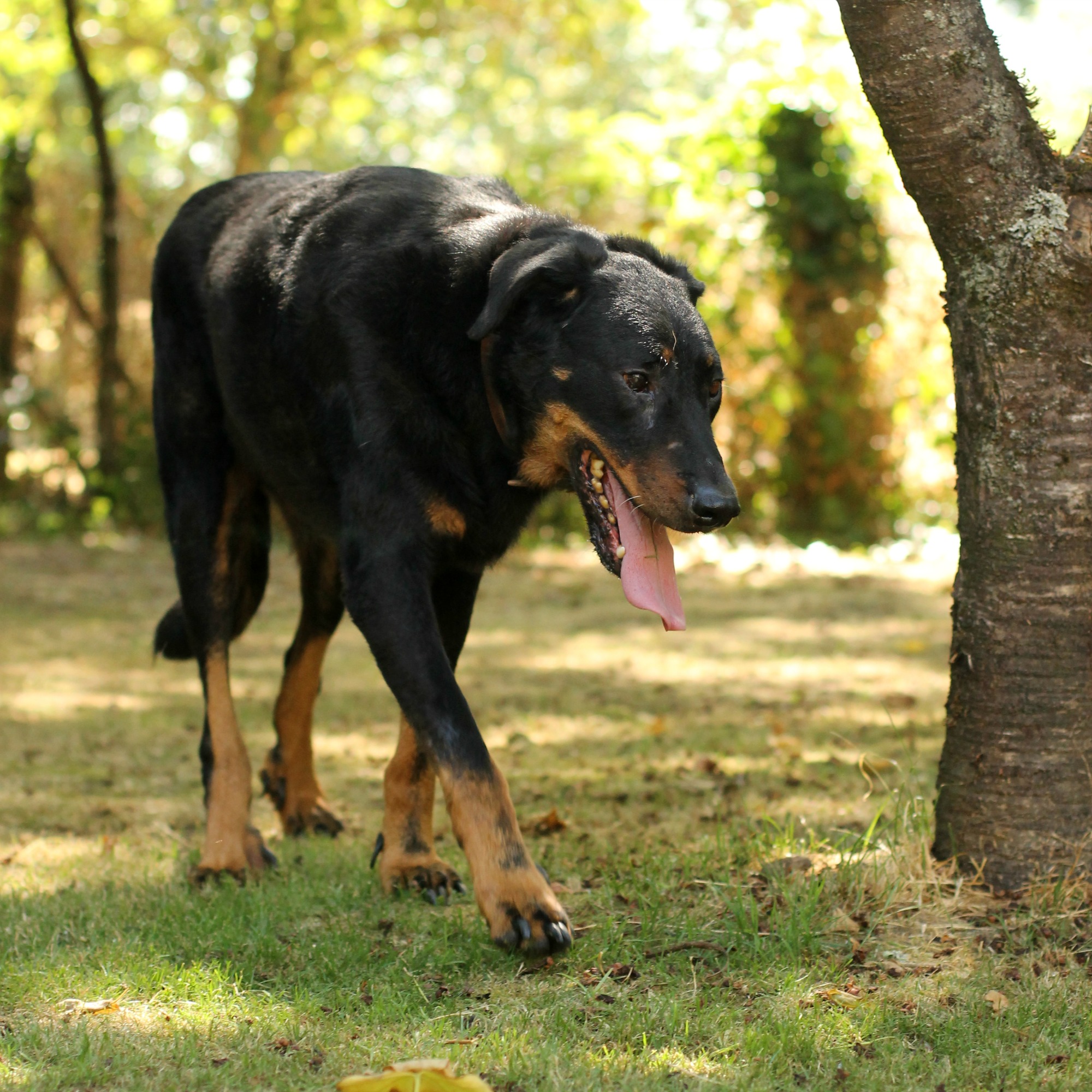 The dogs are in foster for the Refuge de l'Angoumois, Charente (16).  Our middle-aged diamonds' adoption fee is 80€. If you are able to offer either of these lovely guys a home, or both as a preference, please contact Emma on 05 45 65 30 70 or email Emma at emmalee4hope@gmail.com
You are welcome to come to meet them.
If you want a minimum fuss delight of a dog, please let it be one of these two. They are just wonderful and so need a home.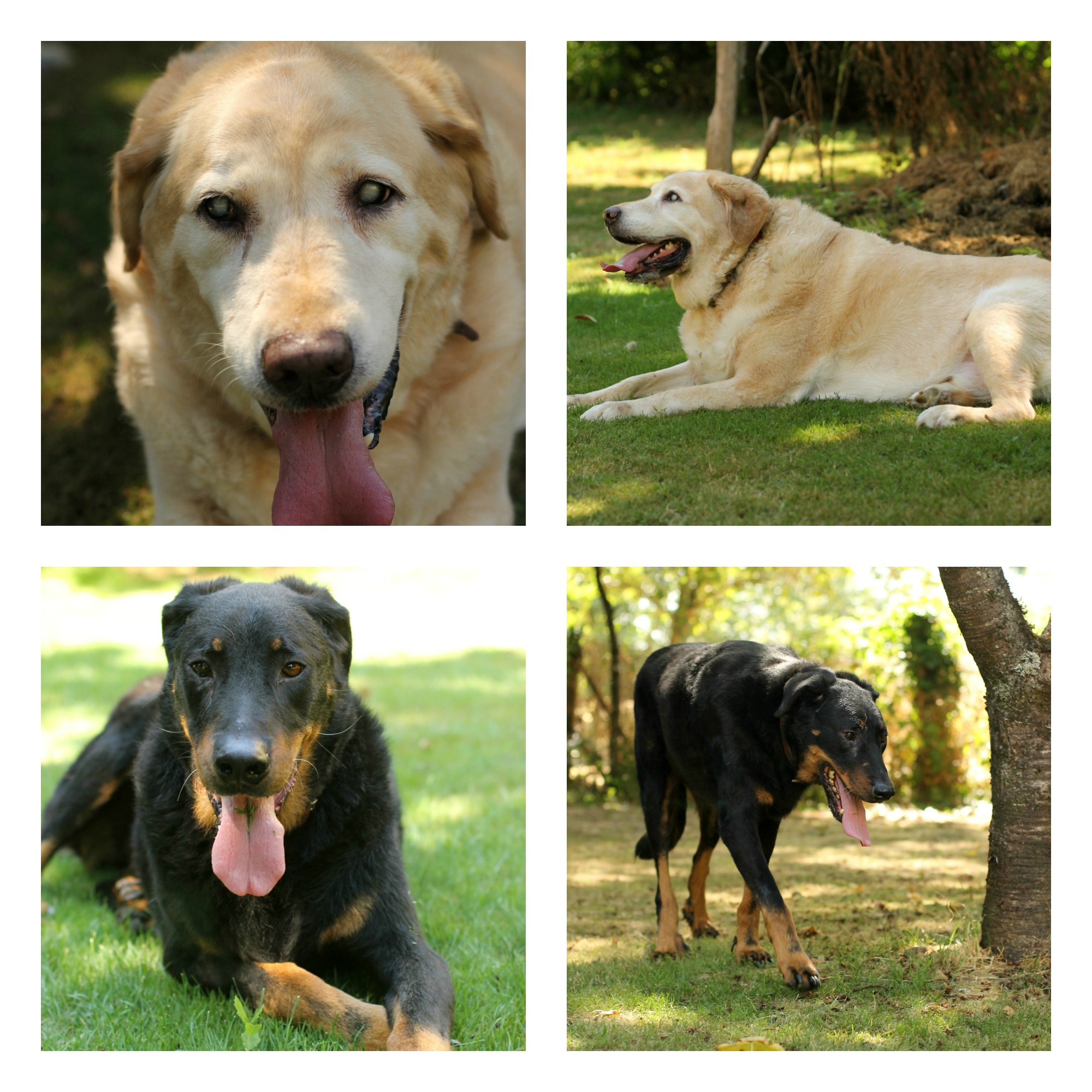 [:]