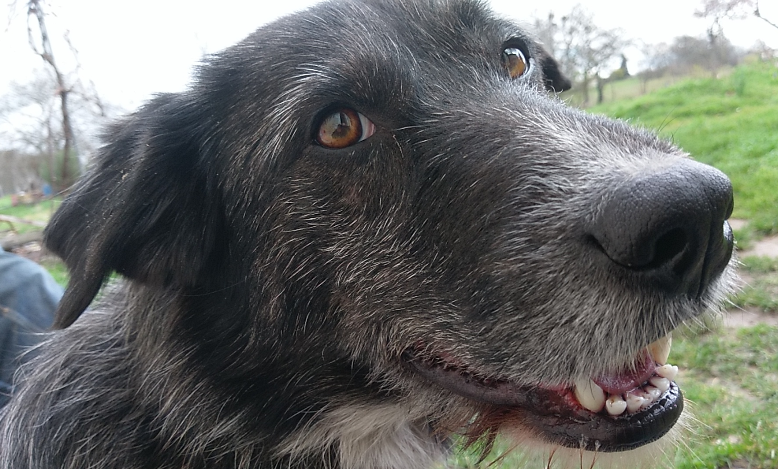 Female shepherd type dog called Tarmac. The name refers to her colours, grey with darker spots and some rusty colour and white markings, just like the merle colour in collies. She's a cross between pyrenean shepherd (the small one, not the big white) and australian shepherd, might have border collie ancestry. A real collie type dog, much like a border collie, just a bit taller. 2,5 years old, female, 24 kg.
Vaccinated incl. rabies, wormed and chipped. European pet passport. Not spayed. Excellent health, no issues.
She spent most of her life on her own in a courtyard during her first year so she didn't learn anything and wasn't socialised much. She wasn't allowed in the house even though she so wanted to be with her people. She was given to us when she was one year old. Since then she has undergone a lot of training, socialisation etc. and she is a quick learner and very biddable. She gets very excited with new things at first but with guidance she is able to calm down quickly. Gets on well with our cat and other dog, even though the dogs tend team up together and are less controllable than each on their own. As she is so biddable, she can learn to behave in any situation. I have taught her not to hunt and she got it. She wants to be a good girl more than anything. Her only flaw is that she is very excitable.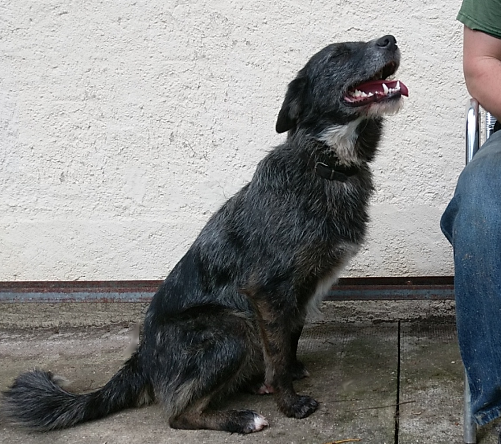 Meeting other dogs for the first time can be a bit tricky as she gets very excited, so this needs to be supervised, best not off-lead in the beginning. It takes a few minutes, and when the sniffing is done, she is friendly and playful. She is not aggressive, just didn't have much input during her first year. She plays with other dogs and lives with a dog, no problem. It's just the initial 5 minutes, especially when meeting a timid dog who might be scared from all this energy. She will learn and improve though, it's a question of socialisation.
Same with the cat, she is friendly but very excitable, so the cat needs to be able to get out of the way and have safe space if it feels bothered. In our house, that's the table. Dog is fine with cows, horses, chickens and ducks.
Has been to dog training school for basic training with other dogs. Recall, sit, lay down, stay are very good. Walking on the lead and heel is OK now. With other people and dogs around she is better on a lead because she still needs to learn not to say hello to every single dog out there.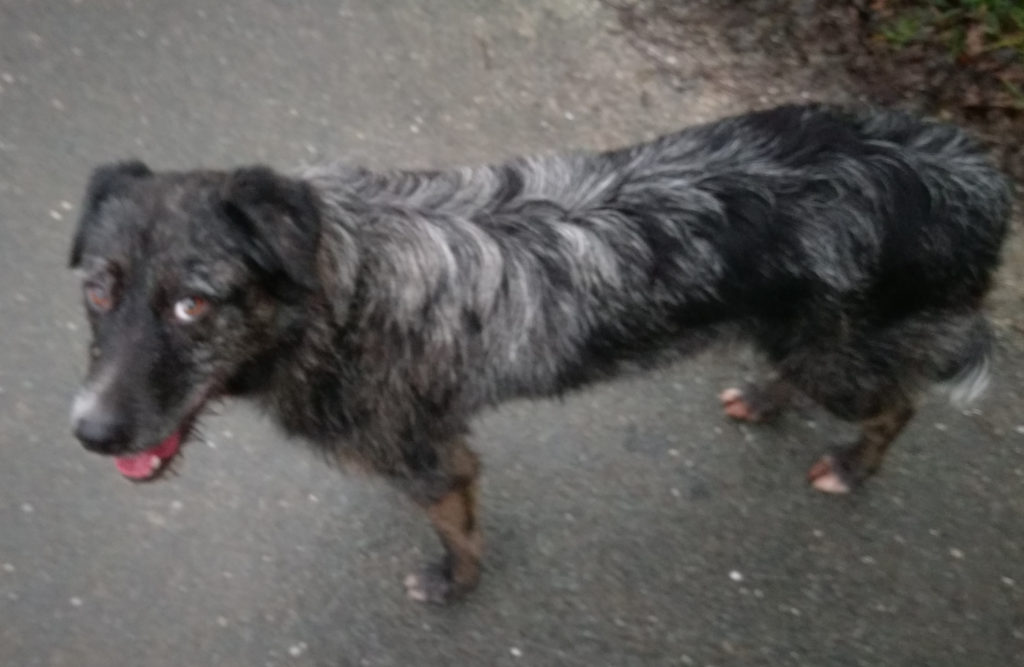 She loves people, perfect with children, pure joy and friendliness, there are no signs of aggression. Loves going in the car, she'll jump in when you open the door. She needs some exercise every day and would love to be with her people all the time. Loves walks, running next to a bike, playing fetch, having cuddles etc. She is clean and calm in the house, but this is not a dog to be left on her own all day. Needs a fenced-in garden.
Microchip nr.: 250269811339272. Location: Petit-Bersac (24600), Dordogne
I need to place her due to personal life changes.
Mobile +33 (0) 6 11 31 56 76
Tel. +33 (0) 5 53 90 97 39
Email tigrebl55@gmail.com