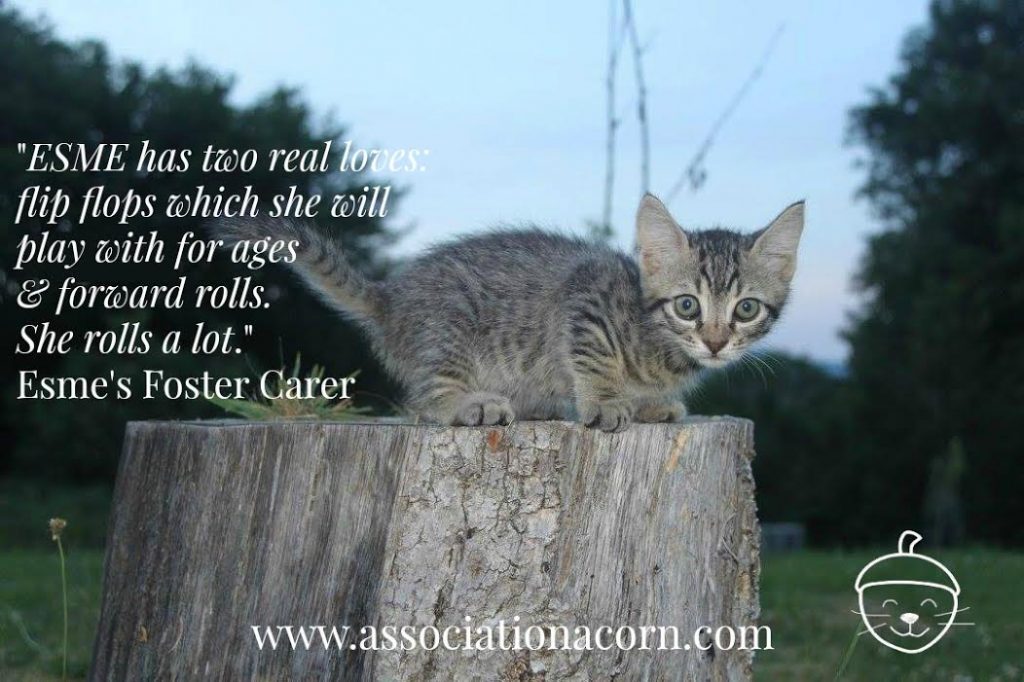 ESME – female, born late April 2017
This little treasure was found starving and crying in a barn! Sadly she wasn't alone and all of her siblings were drowned. Luckily a kind girl stepped in and managed to save Esme.
Despite this appalling start, she's going great guns now as you can see by the photos.
Her Foster Carer says,
"Esme is a real little ball of energy, she loves to play all the time, with anything, including her tail! She has two real loves, flip flops which she will play with for ages & forward rolls, she rolls a lot … she is hilarious, I could never get bored of watching her!
She also has a soft side & wants a cuddle, every time she is with me, pushing her way up to under my chin her legs either side of my neck! I adore her, she has a beautiful character and does little memping sounds when she sees you! She is a very clever kitten, responsive too she will always come when called. Whoever adopts her will be very lucky & I will miss her terribly."
Esme will be ready to go at the end of June and will be microchipped, first vaccinated and de-parasited. Her adopter will be expected to have her sterilised post-adoption.
Please find more photos of Esme at www.associationacorn.com
Please contact Lynda on associationacorn@gmail.com or on 05 53 81 30 44